Jing, Herbal Soda, Cherry Cola, 50ml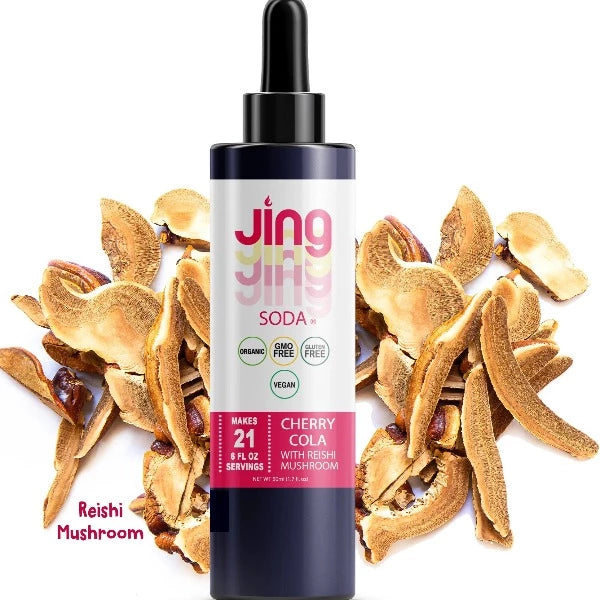 LONGEVITY WAREHOUSE
Compromise health for flavor? No way! Throw out that toxic bottle of manufactured cherry cola and sip on this health-promoting version instead. Bursting with mouthwatering cherry cola flavor,
Reishi Cherry Cola is the best way to enjoy classic soda taste while enhancing your physical and mental health.
Antioxidant-rich, immune system ally
Balances energy levels and sleep cycles
Cardiovascular and inflammatory-protective
Builds resilience to mental and physical stress 
BODY SUPPORTING MUSHROOMS
Reishi Mushroom (Ganoderma lucidum) the "mushroom of immortality," has a more than 2,000 year old history of use in Traditional Chinese Medicine (TCM). Containing over 400 active biomolecules, it is one of the most potent, influential full body herbs you can consume. One of the most scientifically studied mushrooms, Reishi foundationally supports every single function of our body. The more consistently we consume reishi, the more it works within us to increase our vitality. If there is one herb you should commit to taking every single day, reishi is it.
Reishi is known to: 
Enhance overall health

 

and

 

longevity*
Support energy levels

 

and

 

healthy sleep cycles*
Promote a sense of well-being

 

and reduced stress*
Support the immune system and circulatory system*
Turkey Tail (Coriolus versicolor or Trametes versicolor) is a hard hitter when it comes to battling negative influences in the body. It is one of the top recommended medicinal mushrooms for supporting the immune system and has been used in Traditional Chinese Medicine for thousands of years. Recent scientific studies have shown this to positively influence healthy cells in the body while working against unhealthy cells. 
Turkey Tail is known to:
Build resiliency of the

 

immune system*
Support a healthy

 

cardiovascular system*
Support the body's natural healing response*
Support healthy

 

cell function and replication processes*
Savor the power of reishi mushroom and turkey tail mushroom without bitterness or messy powders! This sugar-free, chemical-free, health-promoting tincture is the easiest - and most delicious - way to support total body wellness. 
0% sugar. 0% chemicals. 0% preservatives. 0% food dyes. 100% nutrition.  
Container Size: 50ml (1.7 fl oz)
Serving Size: 1-2 dropperfuls 
Directions for Use: Add 1 or more dropperfuls to one cup of sparkling water. Gently stir, add ice, and enjoy.
Ingredients: Wildcrafted Reishi-Turkey Tail Concentrate, Purified Water, Dual Extracted Reishi-Turkey Tail Extract, Stevia*, Cherry Cola Concentrate* (Proprietary Blend of Fruit and Vegetable Extracts*, Stevia*, Gum Acacia*, and Citric Acid*), Vegetable Glycerin*, Alcohol*
*Indicates Organic
These statements have not been evaluated by the Food and Drug Administration. This product is not intended to diagnose, treat, cure, or prevent any disease.