ION*Gut Health For Pets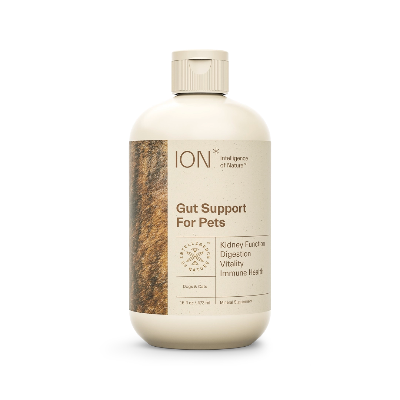 ION
ION*Gut Health For Pets is a gut-strengthening, vitality-boosting supplement sourced from 60-million-year-old soil and shown to naturally support your pet's microbiome and defend against toxins such as glyphosate.
Terrahydrite® does for their gut and brain what it does for ours, helping your pet to jump, run, climb, and thrive. It goes beyond the scope of other pet supplements to support gut health, vitality, and immune function.
Directions for use: Shake Well. Ideal application is by syringe (no needle) in the corner of mouth (not squirted in – but gradually dispensed). You can also pour ION* Gut Support For Pets into one-quarter cup of dechlorinated water.
Pets can drink ION* Gut Support For Pets before, during, or after a meal and still receive benefit. If you feed twice daily, you can split the following doses in half and provide twice daily.
For pet weight:
<20 lbs: 1 tsp (5 ml) daily
21 lbs to 100 lbs: 2 tsp (10 ml) daily
>101 lbs: 1 Tbsp (15 ml) daily
Sensitive Usage:
Starting with 1/8 teaspoon of ION* Gut Support For Pets, once a day, can be a good introduction. Double the usage weekly until your pet is fully benefitting from the recommended usage for their weight category. Give at mealtime or twice daily in one-quarter cup of dechlorinated water.
Please note: These usage schedules are for canines and felines. ION* Gut Support For Pets has not been tested in the equine environment.