ION*Gut Health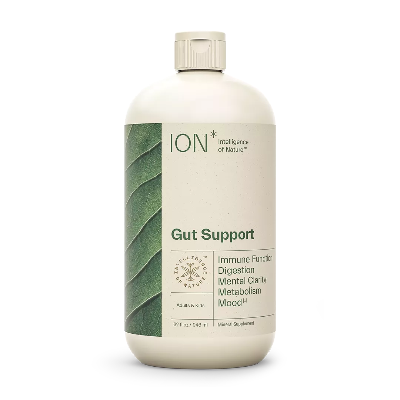 ION
ION*Gut Health is a gut-strengthening, brain-boosting mineral supplement sourced from 60-million-year-old soil that naturally supports microbiome balance. The active ingredient, Terrahydrite®, has been shown to support the integrity of tight junctions in the gut lining, even in the face of damage from toxins such as glyphosate.
ION*Gut Health goes beyond other supplements to support your wellbeing at a foundational level. By laying that foundation with ION*Gut Health, you aren't just supplementing; you're supporting.
Adults and Children 3 and Over: 
For general gut-brain health, we recommend 1 teaspoon of ION* Gut Support 3x/day. Optimal gut support is achieved when taken 30 minutes prior to meals because of ION* Gut Support's protective effects against gluten and glyphosate, but you can take it immediately before, with, or after a meal, (or on an empty stomach) and still receive benefit.
Children under three: 
We recommend ¼ teaspoon, 3x/day for children under 3 years of age. If you would like to introduce your little ones more slowly, we recommend 1/8 teaspoon a day, slowly building to standard usage.
Sensitive Adult Usage: 
Results can vary with initial ION* Gut Support usage, with many customers reporting rapid and profound early results. These results are not the direct effects of the supplement itself, but instead reflect the innate healing process that occurs in a body as the firewall system is optimally up and running. There is a subset of individuals, however, that can experience symptoms of tiredness, headache, bloating/increased gas, or bowel changes. If you feel you may be sensitive to the changes that can occur as your innate defenses and capacity for water/nutrient absorption are restored, we suggest a slower approach. Start with 1/8 teaspoon of ION* Gut Support daily, increasing usage slowly, as tolerated, to get to recommended label usage.