Bioptimizers Gluten Guardian, 90 Cap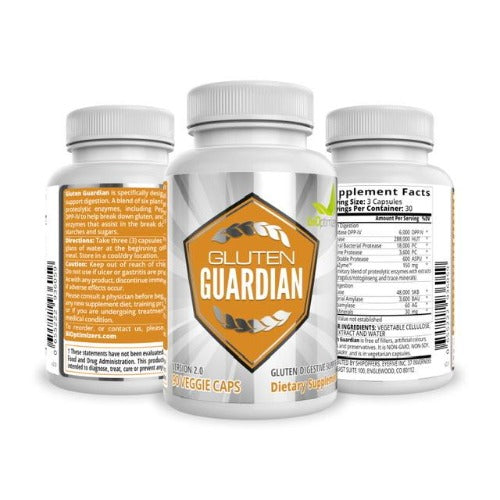 bioptimizers
90 vegan capsules.
Gluten Guardian is a blend of 6 plant-based proteolytic enzymes that includes Peptidase DPP-IV (an enzyme clinically proven to help break down gluten) — as well as three enzymes that break down starches and sugars.
Gluten Guardian is specifcally designed to support digestive issues relating to gut-irritating foods containing gluten or casein
Gluten Guardian contains AstraZyme, a proprietary all natural plant derived compound extracted from Panax ginseng and Astragalus
Even if you eat gluten-free, most restaurants or kitchens do not separate gluten-containing foods. This means there's always the risk of gluten-exposure anytime you eat out.
Suggested Use
Take 3 capsules with a glass of water at the beginning of each meal. Store in a cool / dry location.
Product Certifications

Made in the USA
Frequently Asked Questions:
Product Dimensions
Cap diameter: 1.5 inches
Bottom diameter: 2 inches
Height: 4 inches
Weight: 2.2 ounces
Caution
Do not use if ulcer or gastritis are present.