Anima Mundi Superfood, Mushroom Mocha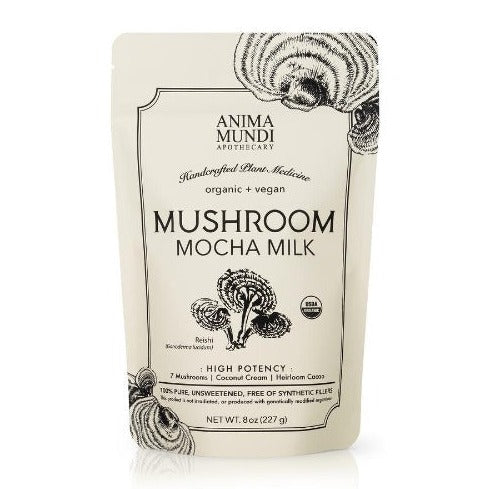 Anima Mundi
MUSHROOM MOCHA MILK - ORGANIC ADAPTOGENIC CREAMER
8 oz bag
Think of this as your new favorite add on to anything milky and delicious. The perfect combination of heirloom organic cacao, our dreamy coconut cream powder along with our organic broken cell wall 7 mushrooms. Basically an instant creamer that you can add to anything to bump up the medicinal effects of the adaptogens into an exquisite frothy drink. 
How to: Coffee, cacao, chai, ice cream, power balls, and even savory sauces! Sky's the limit. Easy and healthy add on to just about anything. Keep in mind this product does not have any sugar. This is meant to be an ADD-ON, so add it to emulsify, thicken, and cream up your favorite warm or chilled milk beverage.    
Ingredients: Anima Mundi's Coconut Cream Powder, Heirloom Organic Cacao, 7 mushroom blend: Reishi, Chaga, Cordyceps, Lions Mane, Agaricus, Shiitake, Maiitake.  [ 100% organic ingredients ]
*All Organic US Grown Mushrooms! With the exception of Chaga being ethically wildcrafted in WA state.
**ORGANIC 
Vegan / Not Genetically Modified / Kosher / No Fillers!