Jing, Herbal Soda, Lemon-Lime, 50ml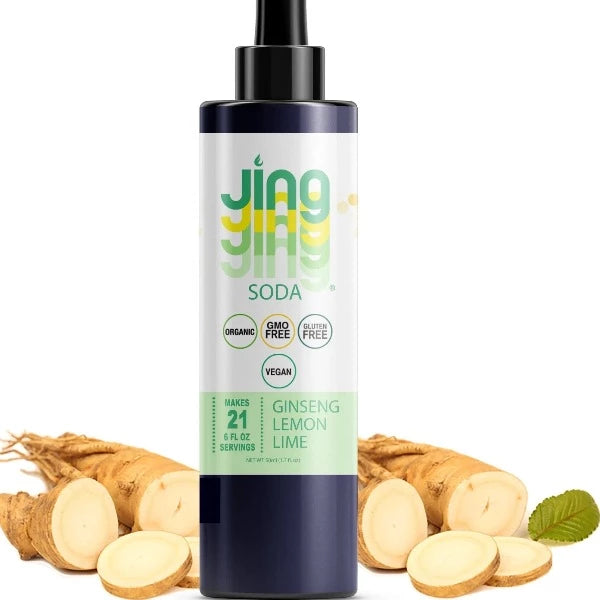 LONGEVITY WAREHOUSE
Mimicking the flavor of your favorite clear soda, this delicious tincture offers
 

adaptogenic, immune-system-enhancing, inflammatory-protective, healthy weight optimization with no chemicals, preservatives, high fructose corn syrup, or harmful additives.

 

AMERICAN GINSENG
Originally used in traditional medicine by Native Americans, American Ginseng is used worldwide for its many health benefits. This powerful herb plays an important role in the body to increase energy & decrease fatigue, support healthy brain function, and reduce inflammation.
American Ginseng contains ginsenosides that may help to lower blood sugar. The polysaccharide content of the herb helps to improve immune system function. 
Considered by many states in the US as 'endangered' or 'threatened,' this special plant is now grown on farms to allow for larger production and harvesting.
Research studies have shown that American Ginseng (Panax Quinquefolius) has the ability to provide the following benefits:
Supports healthy brain function*
Anti-stress and anti-anxiety*
Provides

 

immune system

 

support*
Supports physical endurance and healthy weight loss*
Supports healthy sexual function in males*
Adding to the power of this soda, lemon and lime unite to deliver the perfect soda flavor. Even better, they promote hydration, deliver multiple vitamins including vitamin C, and help your body stay alkaline to fight off disease. With Longevity Soda Lemon-Lime, you can easily drink your way to health!
This keto friendly, chemical-free, health-promoting lemon-lime tincture is the most delicious way to support total body health and wellness.
0% chemicals. 0% preservatives. 0% food dyes. 100% nutrition.  
Container Size: 50ml (1.7 fl oz)
Serving Size: 1-2 dropperfuls 
Directions for Use: Add 1 or more dropperfuls to one cup of sparkling water. Gently stir, add ice, and enjoy.
Please note: Due to new stronger herbal extraction process, liquid will look creamy/milky white rather than clear. 

Ingredients: Dual-Extracted Ginseng/Ginger Concentrate* (Ginseng, Ginger, Purified Water, Extraction Spirits*), Lemon Juice*, Stevia*, Vegetable Glycerine*, Lemon-Lime/Pineapple Concentrate* (Proprietary Blend of Fruit and Vegetable Extracts*, Gum Acacia*, and Citric Acid*).
*Indicates Organic
These statements have not been evaluated by the Food and Drug Administration. This product is not intended to diagnose, treat, cure, or prevent any disease.