Sarvaa Superfood, SuperFruit C, 6 oz powder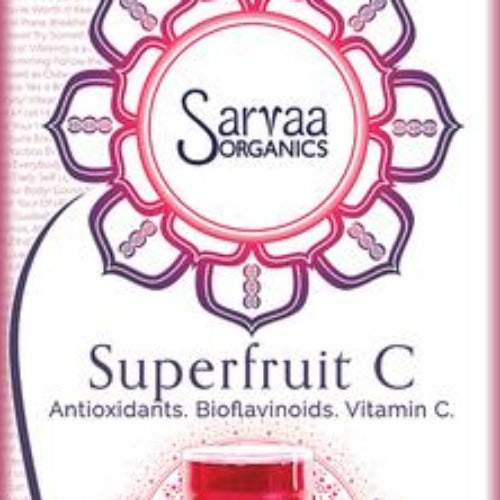 Sarvaa
Imagine being able to boost your immune system, support your nervous system, and promote healthier skin and hair all in one drink. SuperFruit C contains a synergistic collection of some of the most potent and bio-available sources of Vitamin C on the planet. Carefully grown fruits such as Acerola Cherry, Rosehips, Camu Camu, and Amla Berry are not only the most Vitamin C rich fruits on Earth, they also contain an amazing host of other health benefits. SuperFruit C will support your optimal health whether you're a competitive athlete or a busy mom.åÊ
åÊSome of the important benefits of SuperFruit C include:
Each serving contains over 800% of the RDA for Adult men, and over 850% of the RDA for Adult women. See chart below.
Bio-available, whole food sources of Vitamins C, A, B1, B2 and B3. Improves immunity, cardiovascular health, and vitality.
Phyto-nutrients. Promote overall health and prevent disease.
Bioflavonoids. Contains anti-aging properties and promotes proper functioning of the circulatory and immune systems. 

Anti-oxidants.

Reduce inflammation. Protects cells from damage caused by micro-organisms and environmental toxins. Improve skin and hair health.
Helps balance blood pH. Naturally alkaline fruits neutralize acids that helps to optimize health while efficiently delivering nutrients to the blood stream.
Enhanced Immune Response. Greater protection against disease, viruses, and toxins.

Absorbable Calcium, Iron, Magnesium, and Potassium.

Essential minerals for higher metabolism, skeletal health, and athletic performance.
96% USDA Organic, 4% Wildcrafted Ingredients:åÊ*Acerola Cherries, *Rose Hips,*Lucuma Fruit, *Camu Camu Berries,*Goji Berries, *Amla Berries, *Baobab Fruit, Wild Blueberries, *Pomegranate, *Mangosteen,*Noni Fruit, *Schisandra Berries, Orsa Salt (for Yin-Yang Balance), tiny dash of *Stevia. *Organically Grown. 
SuperFruit C contains over 800% of you daily need for Vitamin C per serving. And it's organic, non-gmo, Bio-available Vitamin C.