Quantum Probiotic Support, 30 vcaps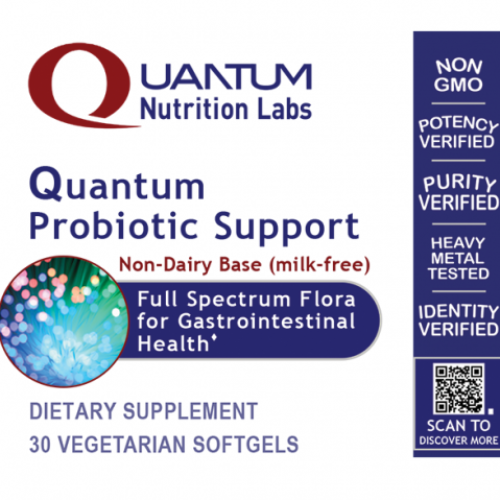 QUANTUM NUTRITION
30 caps / bottle
This broad-spectrum, premier probiotic formula (with good bacteria) promotes healthy intestinal ecology with 12 different viable strains of beneficial flora to support health-promoting intestinal bacteria. Our unique fermentation process uses 95 different natural herbs and barks, cultured for 5 years to produce healthy, mature flora and highly bioavailable nutrients.
Compare with inferior probiotic products:
Not freeze-dried (hibernating) flora with only 2 or 3 strains of probiotics
Non-dairy base (milk-free)
No animal-based ingredients
Refrigeration recommended (not required)
Quantum Probiotic Support contains powerful, broad spectrum good bacteria for ideal intestinal ecology: 12 %iv lactic acid bacteria cultures, 8 minerals, 10 vitamins, 18 amino acids.
Each Vegetable Softgel Capsule Contains:
Proprietary Fermented Culture . . .390 mg
Fermented culture of fruits, vegetables, mushrooms and seaweeds containing prebiotics, enzymes, bacteriocins, trace amounts of vitamins, minerals and amino acids

Proprietary Organic Acid Blend . . .1.27 mg
Citric acid, lactic acid, formic acid, acetic acid
Lactic Acid Bacteria . . .900 million CFU
Bifidobacterium Species (breve ss. breve, infantis ss. infantis longum), Enterococcus Species (faecalis TH10), Lactobacillus Species (brevis, acidophilus, bulgaricus, casei ssp. casei, fermentum, helveticus ss. jagurti, plantarum) Strep. thermophilus

Other Ingredients: Mountain Spring Water, Safflower Oil, Beeswax, Lecithin and Vegetable Softgel (Tapioca processed from Manihot esculenta root, glycerin, carrageenan and caramel)

Contains soy

Ingredients are fermented and processed for three years using 12 strains of lactic acid bacteria. All strains may not be present in final product

CLICK HERE to read about why we love Quantum Nutrition products!

*Disclaimer: The FDA has not evaluated any of these statements. Practice at your own risk and gain. Please seek immediate medical care for any urgent trauma. This product is not intended to diagnose, treat, cure or prevent any disease.