Sarvaa Superfood, Maha Chocolate, 10 oz powder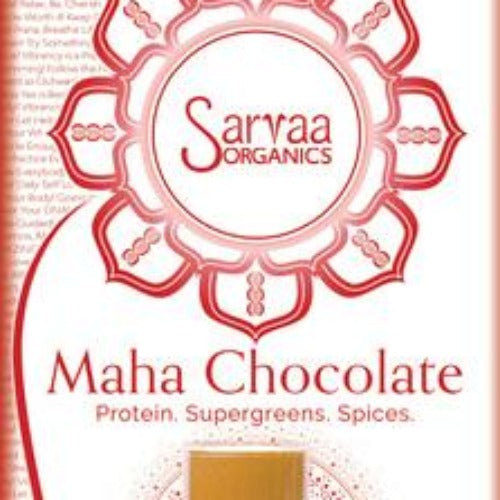 Sarvaa
Raw, Organic, Vegan Superfood.  Sustainably Grown Heirloom SuperFoods from Small Farms.

Get your Greens, Protein, Cacao, & Adaptogens

Maha Chocolate is a unique plant-based Superfood Meal that's loaded with all organic supergreens, adaptogens, plant protein, raw heirloom cacao. Includes the best cacao from Ecuador, Peru, and Bali to create a synergy of balanced and bio-available "chocolate" not found in any other protein powder or meal replacement on the market.
Maha Chocolate tastes absolutely delicious with its rich chocolate flavors, zesty red chili and cinnamon! Maha Chocolate contains ample amounts of vitamins, minerals, amino acids, antioxidants, fiber and healthy carbs. You get sustained energy and vitality from 20 super foods!
Maha Chocolate is the perfect mid-afternoon snack.... or the best pre workout fuel. Imagine having the ideal support for your next hike, run, yoga session, or workout without the crash! Organic, raw, and vegan Maha Chocolate is simply the most unique instant Superfood Meal or snack on the market. You'll love the subtle hints of cinnamon and red chili! Tastes great!  Feels great!
Do You Want more:
Energy. Boosts your energy in a safe, natural, and effective manner without the  low  that can come from caffeine containing products.
Better Mood. Enhance your level of well-being with mood boosting botanicals that make your body and mind feel good!
Endocrine Support. Contains 7 superfoods that provide your body nourishment for healthy skin, hair, eyes, and nails.
Immune Boost. Chlorophyll rich superfoods provide your body with much needed micro-nutrients and trace elements that are absolutely vital for a healthy immune system response and re-building.
Stress Relief. Adaptogenic botanicals, herbs, and roots offer your nervous system relief from a variety of stressors.
Cleansing. Alkalizing superfoods will put your body on the fast track to health by cleansing the body of toxins, balancing blood sugar, and easing digestion.
Weight Loss. Over time, consuming nutrient and fiber-rich superfoods are likely to decrease your cravings for  less healthy  foods and balance your appetite. Infused with the 10 best supergreens, adaptogenic roots and herbs, raw cacao and plant-based protein, Maha Chocolate offers a variety of health benefits for everyone!