Quantum Liver Support, 60 vcaps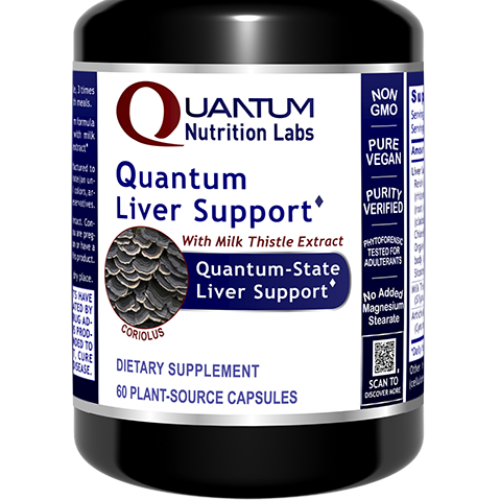 QUANTUM NUTRITION
Quantum Liver Support is a key nutraceutical formulation that promotes optimal detoxification and liver health.
This broad-spectrum phyto-nutritional complex features two key botanical blends: Liver Pro Blend and Detox Synergy Support. In this age of environmental stress, living a healthy lifestyle and including a high value liver support supplement in your daily regimen is a wise choice to help keep your liver in optimal shape.
Each Vegetable Capsule Provides:
Liver Pro Blend 

260 mg

Milk Thistle Extract (seed) (Silybum marianum), Artichoke Extract (leaf) (Cynara scolymus), Reishi (fruiting body) (Ganoderma lucidum)

Detox Synergy Support 

190 mg

Organic Turmeric (rhizome) (Curcuma longa), Organic Beet (root) (Beta vulgaris), Organic Prickly Pear (cladode) (Opuntia ficus-indica), Organic Chlorella (whole) (Chlorella sorokiniana), Organic Turkey Tails (mycelia, fruiting body, spore) (Coriolus versicolor), Beta-Sitosterol
Other Ingredients: Vegetable Cellulose Capsule

*Disclaimer: The FDA has not evaluated any of these statements. Practice at your own risk and gain. Please seek immediate medical care for any urgent trauma. This product is not intended to diagnose, treat, cure or prevent any disease.