Quantum Kidney Support, 60 vcaps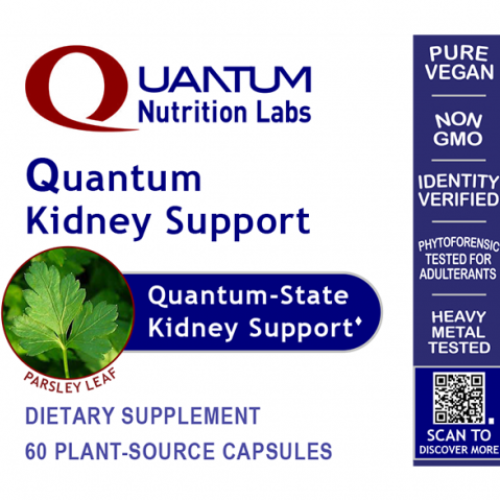 QUANTUM NUTRITION
Quantum Kidney Support
(60 caps / bottle)
This quantum-state, broad-spectrum formula offers effective support for detoxification and optimal kidney health. Quantum Kidney Support features Agari-Pro, an Agaricus bisporus extract and Agari-Plex Detox, the perfect support blend. Cordy-Detox completes the "Quantum Nutrition Effect" of this product.
Quantum Kidney Support is one of our most popular formulas which has now been taken by thousands of satisfied customers.
Each Vegetable Capsule Provides:
Rena-Prime

322 mg

Fermented Cordyceps (mycelia) Extract (Cordyceps sinensis), Cranberry(fruit), Lovage (root) (Levisticum officinale), Hydrangea (root) (Hydrangea arborescens), Organic Kale (leaf)

Rena-Bolic Support

118 mg

Rhodiola rosea (root) Extract, Organic Parsley (leaf) (Petroselinum crispum), Organic Blueberry (fruit), Organic Rice Concentrate (Oryza sativa), Organic Burdock (root) (Arctium lappa)
Other Ingredients: Vegetable Cellulose Capsule
*Disclaimer: The FDA has not evaluated any of these statements. Practice at your own risk and gain. Please seek immediate medical care for any urgent trauma. This product is not intended to diagnose, treat, cure or prevent any disease.