Quantum Thyroid Support, 60 vcaps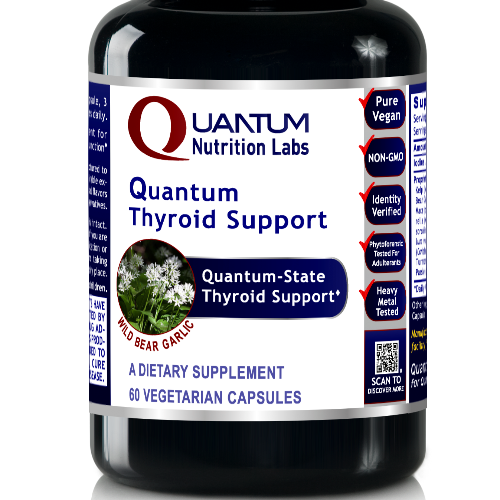 QUANTUM NUTRITION
60 caps / bottle
Quantum Thyroid Support is a quantum-state nutraceutical thyroid formula. It provides quantum-state detoxification support and comprehensive nourishment for healthy thyroid function.
Each Capsule Contains:
Proprietary Blend....500 mg
Rice (whole) Extract, Noni (fruit) (Morinda cit.), Bladderwrack (frond) (Fucus ves.), Pacific Yew (needle tips) (Taxus brev.), Prickly Pear (leaf) (Opuntia fic.), Kelp (frond, stipe) (Laminaria dig.), Kelp (whole) (Ascophyllum nod.), Blue Green Algae (whole) (Aphan. flos.), Chlorella (whole; broken cell wall) (Chlorella vul.), Turmeric (rhizome) (Curcuma l.), Bitter Orange (fruit) Extract (Citrus aur.), Uva Ursi (leaf) (Arctostaphylos uva ursi), Adam's Needle (root) (Yucca fil.), Protease, Amylase, Maltase, Apple Cider Vinegar, Plant-Source Pepsin, Lipase, Lactase, Invertase, Cellulase
Other Ingredients: Vegetable Cellulose Capsule

CLICK HERE to read about why we love Quantum Nutrition products!

*Disclaimer: The FDA has not evaluated any of these statements. Practice at your own risk and gain. Please seek immediate medical care for any urgent trauma. This product is not intended to diagnose, treat, cure or prevent any disease.