Sarvaa Superfood, SupraGreens, 6 oz powder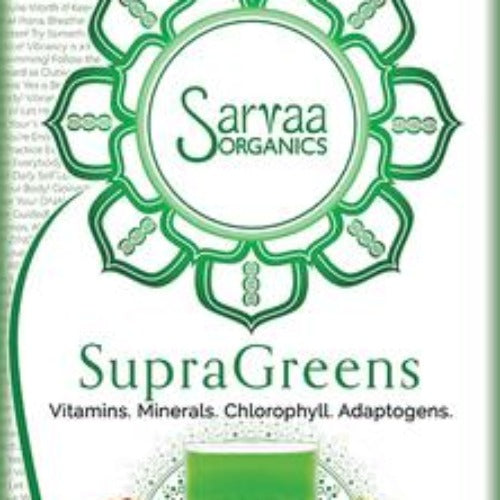 Sarvaa
21 of Nature's most nutrient-rich foods!

Fully Bio-available!

The 9 most Potent SuperGreens on Earth!

Boosts your Immune System!

Detoxifies and Nourishes!

6 most important Adaptogens for your Endocrine System!

Balance your blood pH!

Chlorophyll to pump your cells with oxygen!
The easiest way to get the worlds most nutritious greens!
Gaia Greens is unique among all the green drinks due to the synergistic blend of the 9 best SuperGreens, and the 6 most potent Adaptogens from the around the world. Gaia Greens is foundational to your health and well-being! In fact it's so important, that you'll find it in many Sarvaa SuperFoods, such as : Cacao Plus!, Pacha Protein, Vitality Elixir and Mayan Chocolate.
Benefits of Gaia Greens:
1. Balanced Macro and Micro nutrients that can support your thyroid, cleanse you body of toxins, helps to balance hormone levels, supports your eyes, skin, nails and organs.
2. Cleansing and nourishing herbs such as Nettle Leaf, Dandelion Leaf Tulsi Leaf and Moringa Leaf.
3. The 2 best freshwater algaes, which are 60% bio-available protein, and loaded with chlorophyll.
4. The 2 most mineral rich Sea Vegetables to support your whole body, from your thyroid to your toes!*
Did you know? åÊOne tablespoon of Gaia Greens Superfood is equivalent to a large, intense superfood salad!åÊåÊ
Story - "To formulate Gaia Greens, and to calculate the serving size, we actually made the most amazing " beyond salad" with nine super greens, five adaptogen roots, and five medincinal mushrooms. Next we fully dehydrated the impressive array. Once it was dry we made it into a fine powder. And finally we put it on the gram scale, and it weighed in at exactly 6 grams. And that's what you get in every 6 gram Tablespoon of Gaia Greens!" Derek Van Atta, Founder of Sarvaa Superfood.
Gaia Greens SuperFood Ingredients:
From the Land: Organic Moringa Leaf, Organic Nettle Leaf, Organic Dandelion Leaf, Organic Tulsi Leaf (Holy Basil), Organic Parsley Leaf, Organic Camu-Camu Berries, Organic Celery Seed, Organic Cinnamon
From Fresh Water: Organic E3 LiveTM AFA (Alphanizomeon Flos Aqua) Upper Klamath Blue-Green Algae, Organic Chlorella Algae (Opened Wall for best digestion)
From the Sea:åÊ Organic Kelp and Organic Dulse, both sourced from a protected, pristine and remote part of the North Atlantic.
From under the Earth:åÊOrganic Ashwaganda Root, Organic Turmeric Root, Wildcrafted Shilajit, and Organic Ginger Root.

From the Mushroom Realm:åÊ Organic Cordyseps, Organic Reishi, Organic Chaga, Organic Lions Mane, Organic Fu Ling (Poria).