Jing, Herbal Soda, Vanilla Cream, 50ml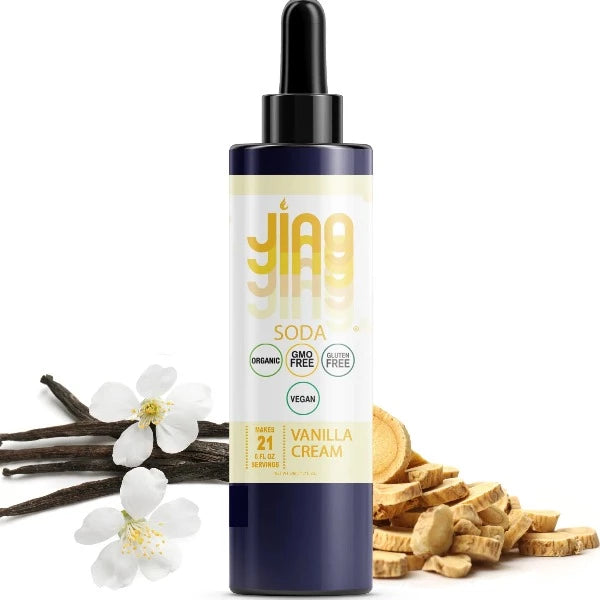 LONGEVITY WAREHOUSE
Cream soda fans, unite!
The unique, creamy, tangy cream soda flavor you love is now available as an immune-system-enhancing, stress-reducing, inflammatory-protective soda with no chemicals, preservatives, high fructose corn syrup, or harmful additives.
Featuring Astragalus and Goji Berries, this refreshing tincture creates a soda that is:
Immune system booster*
Inflammatory-protective*
Supportive to a healthy cardiovascular system*
Enhancing to skin tone and eye health*
Energy and positive mood promoting*
Supportive to healthy cells and overall longevity* 
Supportive to healthy kidneys, bones, and heart*
ASTRAGALUS
Astragalus is a powerful adaptogenic plant that has been used for thousands of years in Traditional Chinese Medicine (TCM). Hailed for its immune system boosting strength, Astragalus is a powerhouse when it comes to keeping your body healthy and stress-free.
Astragalus contains saponins, flavonoids, and polysaccharides which help maintain healthy cholesterol levels, fight the negative effects of free radicals, and keep your immune system strong against microbial and viral attacks. Studies have shown these saponins and polysaccharides to be inflammatory-protective and anti-tumor. 
Studies have also highlighted Astragalus' ability to naturally support type 1 and type 2 diabetes by increasing insulin sensitivity, protecting pancreatic cells that produce and release insulin, and supporting healthy inflammatory responses throughout the body. Astragalus is very protective to the kidneys and rest of the renal system, as well.
GOJI BERRIES
Goji Berries are arguably the world's most healthy superfruit, having been used in Traditional Chinese Medicine for thousands of years. Goji berries offer a wide range of vitamins, trace minerals, and phytonutrients to support your body's immune system, weight, energy levels, sleep cycles, mental health, and reduced stress levels. 
Gojis have been studied extensively for their ability to generate feelings of calm, well-being, and happiness. They support gastrointestinal health and support healthy bones and a healthy heart. They are packed with beta carotene which helps protect your eyes and bring luster to your skin. These powerful berries support so many systems in your body while tasting sweet and delicious!
This sugar-free, chemical-free, health-promoting cream soda is the most delicious way to support total body health and wellness.
0% sugar. 0% chemicals. 0% preservatives. 0% food dyes. 100% nutrition.  

Container Size: 50ml (1.7 fl oz)
Serving Size: 1-2 dropperfuls 
Directions for Use: Add 1 or more dropperfuls to one cup of sparkling water. Gently stir, add ice, and enjoy.
Ingredients: Wildcrafted Astragalus Concentrate, Goji Berry Concentrate*, Purified Water, Dual Extracted Astragalus, Vanilla Concentrate* (Proprietary Blend of Fruit and Vegetable Extracts*, Stevia*, Gum Acacia*, and Citric Acid*), Vegetable Glycerin*, Alcohol*
*Indicates Organic
*These statements have not been evaluated by the Food and Drug Administration. This product is not intended to diagnose, treat, cure, or prevent any disease.