Sarvaa Superfood, Golden Bliss, 2.8 oz powder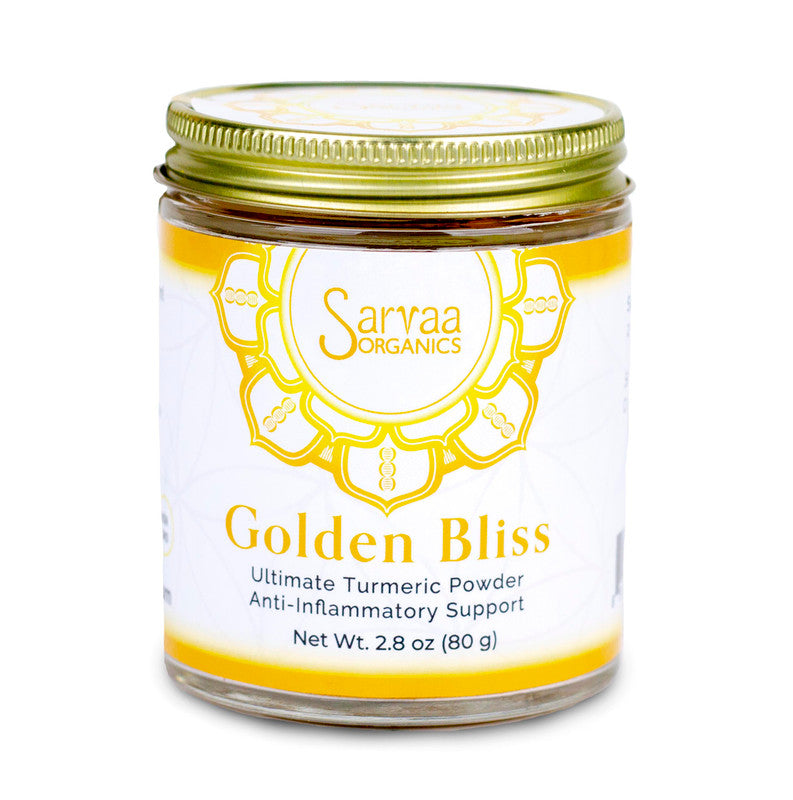 Sarvaa
Golden Bliss - Powdered Turmeric Supplement
For thousands of years cultures around the world have created "tonics" that nourish and cleanse the body. Inspired by the Ayurvedic formulas that have stood the test of time, Golden Bliss adds in the benefit of decades of science to create the optimal ratio of organic, Anti-inflammatory support. 

Sarvaa's Golden Bliss is a carefully tailored superfood powder that exists to enhance your performance at work and home, reduce pain associated with inflammation, and aid with physical recovery. Golden Bliss comprises of whole root turmeric and turmeric extract for a powerful dose of curcuminoids. These two top ingredients are enhanced with other potent anti-inflammatory superfruits and spices to bring your body back into a state of ease and grace.
Organic, Non-GMO, Gluten Free, Sugar Free, Sustainably Sourced
How do I use Golden Bliss?
Suggested serving size is 1/2 - 1 level teaspoon once or twice a day. 
To Make "Golden Milk":
In a pot over low heat, warm up about 8 oz of your preferred milk (coconut, almond, hemp or flax), and stir in 1/2 - 1 level teaspoon of Golden Bliss into the milk. Because of the lovingly placed probiotics in this blend, be sure *not* to let it get to a boil. If desired, stir in a 1/4 teaspoon of coconut oil for some silky smoothness and/or your favorite healthy sweetener. Pour into your mug and sip to your heart's content!
A simplified way to take Golden Bliss is to shake up a 1/2 - 1 teaspoon in water, juice, or include it in your smoothie.
Designed for a daily consumption.
Benefits with Golden Bliss:
Reduce Your Inflammation Effectively.
Boost Your Immune System.
Restore Your Inherent Vitality.
Speed Recovery from Illness or Stress.
Support Healthy Weight Management.
Lessen Fatigue.
Help Regulate Hormones.
Alkalize Your Blood pH.
Features of Golden Bliss:
Delicious, Vegan, Organic, Raw
Ultimate Anti-Inflammatory Powder

Includes the 9 Best Powdered Herbs, Probiotics, and Spices for naturally reducing inflammation
Loaded with Antioxidants, Phytonutrients, Vitamins and Minerals
Harmonizes Tried-and-True Ancient Healing Traditions with Modern Science
Add to smoothies, or add to warm milk for a "Golden Milk" drink
80 grams, 40-60 Servings per jar
What Others Are Saying About Golden Bliss:
"Golden Bliss powder reduced the pain and stiffness in my joints in 48 hours! I love the taste too!"  Chris Spears, CO 
"I love to add some of this powder to my smoothies. And sometimes I make a 'Golden Milk' with almond milk or coconut milk with a 1/2 a teaspoon of Golden Bliss. It's a brilliant combination that leaves my palate happy, and my body-mind feeling more vitality and delight" C. Shane, Health Coach
A Word on Inflammation
We all know that inflammation can cause minor to major health issues. But what is it really? And why does inflammation occur?
The anti-inflammatory effects of curcumin and other inflammation-reducing superfruits are being actively studied throughout the scientific community, among traditional herbalists, and other branches of natural medicine. Inflammation, within a healthy immune system, is actually a protective mechanism that surrounds an injury or illness. Your body sends increased blood flow and immune cells to the area that is aggravated, and sometimes cells can get damaged in the process of this inflammation response. In a healthy immune system, the inflammation response subsides when it knows that the body is on the mend.
In a less healthy immune system, inflammation can get out of hand. Your body may feel like it's under a constant barrage of stresses, and it may not know when to reduce what was once a healthy inflammatory response. Stress can come from many places, and not just from a difficult work environment or a challenging relationship. It is also possible to have excessive inflammation from eating unhealthily or being around toxins in the air.
Supporting your body with an anti-inflammatory diet can go a long way to bringing the body back to health. When trying to reduce inflammation, remove aggravants from your diet such as refined sugar, flour, dairy, and alcohol. For some, it may even be helpful to remove foods in the Nightshade family. The practice of removing irritating foods has been shown to significantly reduce inflammation in many people, especially those with internal inflammation.
How Golden Bliss is Different from Other Turmeric Powders
In a world full of food products and supplements that primarily focus on profit as opposed to purity and quality, Sarvaa Golden Bliss takes the highest path for your health. Why? Because of an absolute commitment to the absolute finest quality superfoods on the planet! Like all of Sarvaa's creations, Golden Bliss has no preservatives, and no junky fruit juices or flavorings. Everything you taste is the way it naturally tastes from Mother Earth.
 The Ingredients of Golden Bliss 

 1. We start with whole-root Turmeric blended into an ideal ratio with Turmeric Extract (95% Curcuminoids). This optimized ratio acts to balance your system by "up-regulating" the processes in your body that are deficient. And also simultaneously "down-regulating" some of the components in your body that are unnaturally cranked up. Turmeric is extremely effective at both up-regulation and down-regulation of the body, without negative side effects.

 2. A huge benefit of Golden Bliss is the inclusion of the two most anti-inflammatory SuperFruits for your body: Acerola Cherries and Blueberries. Sarvaa sources Wild Crafted Blueberries from the Amazonion regions and includes it in Golden Bliss, to give you much more of the antioxidant and anti-inflammatory benefits than the typical domestic types of blueberries offer. Acerola Cherries are more potent than any other fruits for helping your body avoid excess inflammation. Acerola Cherries are also packed with Vitamin C. They actually contains 60 times the Vitamin C content of oranges per serving!
3. We include the five most anti-inflammatory organic spices known today. We use a proprietary blend of Cassia Indonesian Cinnamon combined with the more rare and highly valued Ceylon Cinnamon (Cinnamomum Verum) to provide you with all the best anti-inflammatory qualities, plus the benefits of balanced blood sugar in your body. Ginger Root has rich phytochemistry and very potent anti-inflammation support. Cardamom and Cloves are also incorporated for their strong anti-inflammatory effects. Sarvaa Golden Bliss includes a perfect small dose of Black Pepper to enhance the benefits and assimilation of Turmeric and the potent qualities of Turmeric Curcuminoids.
4. Powerful Probiotics and Prebiotics round out this formula. Sarvaa's Golden Bliss incorporates Sarvaa's proprietary Probiotic Blend of Sporebiotic, shelf-stable probiotics and prebiotics to support your GI tract.
To learn more about Sarvaa's fantastic Vibrant Biome Probiotics click here.

  RAW!    Gluten Free!    Organic!    Vegan!    Non-GMO!    Low Glycemic!    No Fillers or Binders!   Wholefood!
*Organic Ingredients: 
Roots: *Turmeric Root, *Ginger Root
Fruits: *Acerola Cherry, *Blueberries, *Date, *Baobab, *Lucuma
Tonic: Turmeric Extract
Balancing: *Cinnamon, *Cardamon, *Cloves, *Black Pepper
Probiotics: B. Coagulans, L. Rhamnosus, L. Casei, L. Acidophilus, L. Plantarum, B. Bifidum, L. Bulgaricus, B. Breve
Love your body!    Love Everybody!  
*The statements on this site have not been evaluated by the FDA. Our products are not intended to diagnose, treat, cure, or prevent any disease.If you are pregnant, nursing, taking medication, or have a medical condition, consult your physician before using this product.