Kejiwa Majestic Man Spagyria Tincture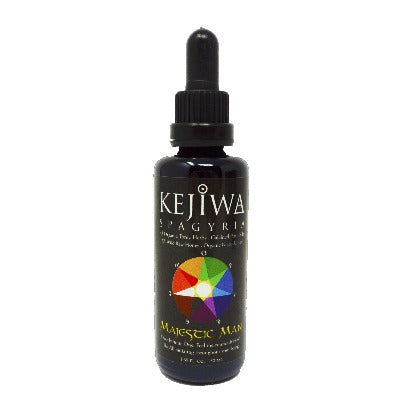 Kejiwa
Majestic Man Spagyria Tincture
( 1.69 fl oz. / 50ml )
*Pristine, pure, organic/wild, vegan (bee-gan), lovingly crafted in the vortex of Sedona. 
To serve your highest health, resiliency, vitality, and light of Being! 
Ingredients: Amla Fruit, Astragalus, Eleuthero Root, Fo-Ti Root, Ginger Root, Saffron, Turmeric Root, Aloe Vera, Gingko, Kelp, Maca Root, Nettle Root, Sarsaparilla, Gota Kola, Wild Oat, Yerba Santa, Yellow Dock, Alfalfa Leaf, Dandelion Root, Dong Quai, Oregon Grape Root, Shatavari, Wild Yam Root, Chaste Berry, Rose Damascena, Saw Palmetto Berry, Schizandra Berry, Irish Moss, Milk Thistle, Red Root, Rhodiola, Sage LeafåÊ *In Organic Grape Alcohol (40%),Vegetable Glycerin + Arizona Organic Wild Raw Catclaw Honey, Sedona Spring Water + Alchemically purified plant salts of 1 herb of each 7 ruling planets (enhancing healing properties) + All Our Love!
** Take 1 to 3 droppers per day breathing deeply visualizing your entire being filling with light while holding your personal intention
Spagyria Tincture- Named by a father of alchemy and medicine, Paracelsus, is an initiatory elixir nourishing both the physical, energetic, and soul body of those who receive it. Harnessing the power, intelligence, creativity, and harmony of nature the alchemist aligns with the planets, moon cycles, elements, and their own souls light, infusing the tincture with the capacity to elevate consciousness.
Spagyria- Meaning separate, and gyre, meaning recombine, is an alchemical process separating the many parts of a plant, purifying and concentrating, and then bringing back together into an even more perfectly intelligent & bio-available whole. This is an alcohol & water extraction combined with calcination of the plant matter back into a pure salt crystal. This alchemy takes one full 28 day moon cycle timed according to planetary rulership of each specific herb to achieve it‰۪s utmost highest vibration & whole healing power.
Benefits: This is a wealth of health for the body, mind, and spirit. These premium 33 tonic herbs are known for being the most effective at revitalizing your organs, nervous system, hormones, and glandular system. When your body is balanced, you feel sustained energy, emotional stability, reduced stress, proper digestion; thriving and living to the fullest! Experiencing your peak physical health creates a crucial foundation for living your highest potential. Energetically, this tincture aligns you to universal harmony and your true nature. To your highest blissful vitality and whole embodied divinity.