Anima Mundi Superherb Formula, Qi Adaptogen Energizer Formula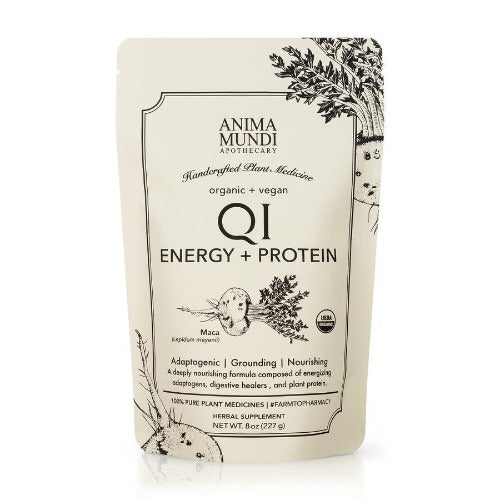 Anima Mundi
Anima Mundi, Qi Adaptogen Energizer Formula
8 oz.
Ingredients: Mesquite, Ashwagandha, Maca, Astragalus, Budrock, Slippery Elm, Ginger, Chia.

Suggested Use:
1-2 Tbsp per serving in your favorite smoothie, juice or tea. Recommended for daily use.
* Sustainably harvested in North America, India and Costa Rica.
Adrenal Empowerment| Sustainable Energy | Protein
The nutrition in Qi predominates in DEEP adrenal revival. Taking the energy back from old exhaustion and transforming it into limitless energy. This blend is mostly a mix of foods used in different parts of Central and South America, therefore it provides all the necessary nutrients for sustained cellular energy. The spectrum of essential nutrients in these herbs, roots and seeds provides the body with enough mineralized fuel to recover health and to keep it ongoing. Soothes the colon, supports blood sugar, colon health, kidney vitality, detoxification, immune system, and longevity. Deep work is being done when this formula is ingested. It contains incredibly powerful, nourishing, healing, and regenerative Super-Herbs.
*The above statements have not been evaluated by the Food and Drug Administration. This product is not intended to diagnose, treat, cure, or prevent any disease.