Quantum Prostate Support, 60 vcaps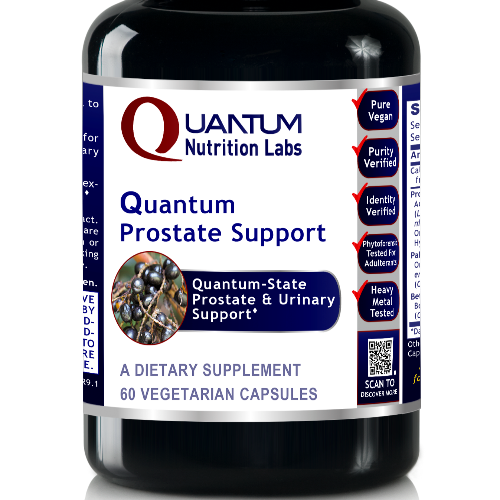 QUANTUM NUTRITION
60 caps / bottle
Our quantum-state prostate formula features 3 key blends (Prosta-Pro Blend, Prosta-Pro Cleanse, and Resvera-Pro) that provide exceptional support for the prostate gland, including urinary tract health.
Each Vegetable Capsule Contains:
Prosta-Pro Blend . . . 260 mg
Beta-Sitosterol, Inositol Hexaphosphate, Soy Isoflavone (seed) Extract (Glycine max), Pygeum (bark) Extract (Pygeum africanum), Acetyl-11-keto-beta boswellic acid, Stinging Nettle (leaf) (Urtica dioica)
Prosta-Pro Cleanse . . . 130 mg
Asparagus (stalk) (Asparagus off.), Tomato (fruit), Saw Palmetto (fruit) (Serenoa rep.), Allicin, Natto (non-GMO soy), Turmeric (rhizome) (Curcuma l.)
Resvera-Pro . . . 75 mg
Maitake (fruiting body) Extract (Grifola frondosa), DIM (Diindolylmethane), Quercetin, Resveratrol (5 mg) (derived from Polygonum cuspidatum)
Other Ingredients: Vegetable Cellulose Capsule
Contains soy (Natto is traditionally made with fermented, non-GMO soy)

CLICK HERE to read about why we love Quantum Nutrition products!

*Disclaimer: The FDA has not evaluated any of these statements. Practice at your own risk and gain. Please seek immediate medical care for any urgent trauma. This product is not intended to diagnose, treat, cure or prevent any disease.