QuantumZymes Complex, 60 vcaps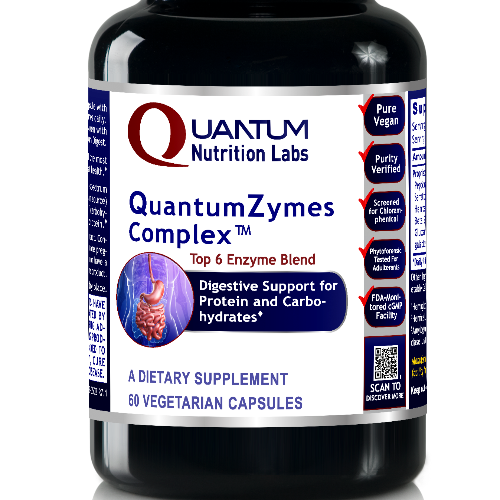 QUANTUM NUTRITION
Efficient digestion is one of the most important keys to great health. This extraordinary plant-based enzyme formula supports the digestion of protein and carbohydrates.
This formula is suitable for everyone, including vegetarians, vegans and those who are gluten-intolerant. In fact, for those who are gluten-intolerant and who eat out at restaurants, QuantumZymes Complex is an excellent formula to take after each restaurant meal (which may have hidden gluten in certain foods).
Each Vegetable Capsule Contains:
Proprietary Blend . . . 353 mg
Peptidase Enzymes DPP IV . . . 50,000 HUT(1)
Serratiopeptidase . . . 4,000 SPU(2)
Hemicellulase . . . 300 HCU(3)
Beta Glucanase . . . 40 BGU(4)
Glucoamylase . . . 30 AGU(5)
Alpha Galactosidase . . . 350 GaIU(6)
Other Ingredients: Stabilized Rice Bran, Vegetable Cellulose Capsule
(1)Hemoglobin Unit, (2)Serratiopeptidase Unit, (3)Hemicellulase Unit, (4)Beta Glucanase Unit, (5)Amyloglucosidase Activity Unit, (6)Galactosidase Unit

CLICK HERE to read about why we love Quantum Nutrition products!

*Disclaimer: The FDA has not evaluated any of these statements. Practice at your own risk and gain. Please seek immediate medical care for any urgent trauma. This product is not intended to diagnose, treat, cure or prevent any disease.