Quantum Eye Support, 60 vcaps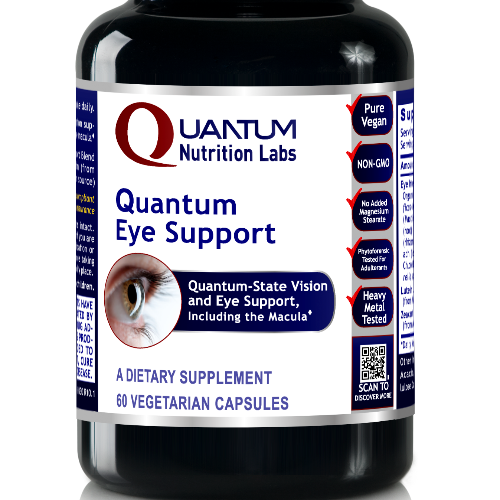 QUANTUM NUTRITION
(60 caps / bottle)
Quantum Eye Support is a comprehensive nutraceuticalåÊformula that features three key eye/vision support blends including Eye Integrity, Zea Pro Blend and Reishi-Pro Blend that support eye health and vision, including the macula.
Each Vegtable Capsule Contains:
Eye Integrity . . . .110 mg
Chlorella (whole; broken cell wall) (Chlorella vul.), Ginkgo (leaf) (Ginkgo biloba), Carrot (root), Horsetail (herb) (Equisetum arv.), Propolis (resin) Extract, Barberry (bark) (Berberis vulg.), Blue Green Algae (whole) (Aphan. flos-aquae), Broccoli (bud), Marine Coral, Pepper (fruit)(Piper nig.), Noni (fruit) (Morinda cit.), Protease, Amylase, Maltase, Apple Cider Vinegar, Plant-Source Pepsin, Lipase, Lactase, Invertase, Cellulase
Zea Pro Blend . . . .95 mg
Bilberry (fruit) (Vaccinium myr.), Eyebright (herb) (Euphrasia off.), Zeaxanthin (6,650 mcg) and Lutein (2,565 mcg) (marigold source), Alpha Lipoic Acid, Grape Seed Extract (Vitus vin.), Masson Pine Bark Extract (Pinus mas.)
Reishi-Pro Blend . . . .60 mg
Lion's Mane (fruiting body, fruiting body extract) (Hericium erinaceus), Turkey Tails (mycelia, fruiting body, spore) (Coriolus versicolor), Reishi (fruiting body, fruiting body extract) (Ganoderma lucidum)
Other Ingredients: Stabilized Rice Bran, Vegetable Cellulose Capsule
CLICK HERE to read about why we love Quantum Nutrition products!

åÊ
*Disclaimer: The FDA has not evaluated any of these statements. Practice at your own risk and gain. Please seek immediate medical care for any urgent trauma. This product is not intended to diagnose, treat, cure or prevent any disease.