Jing, Herbal Soda, Root Beer, 50ml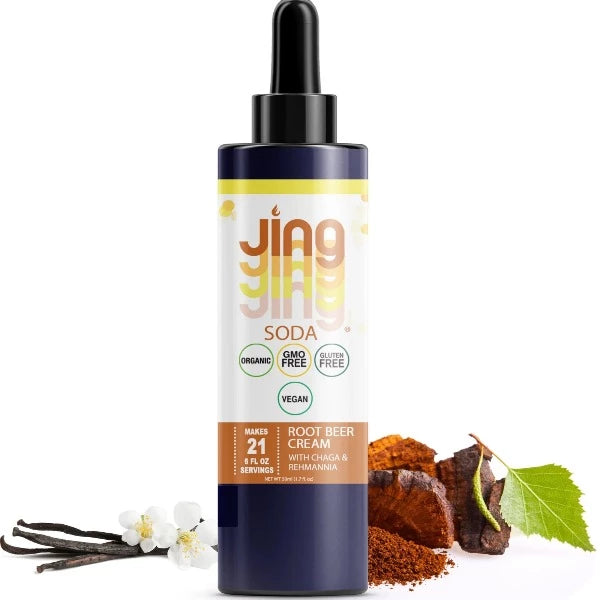 LONGEVITY WAREHOUSE
Enjoy this sparkling, delicious, refreshing superherb soda with 100% healthy ingredients that also now include a hint of Vanilla AND Astragalus! This DELICIOUS ADDITION 
was inspired by all our Longevity Coffee shop customers who became addicted to the root beer/vanilla cream combination! Now you can get ALL these awesome flavors in ONE bottle! 
Rehmannia-Chaga Root Beer: The Health "Soda" so good you won't believe it's not the original.
Say goodbye to sugar-filled, chemical-ladden soft drinks by creating your own healthy version of root beer! Take this delicious and nutritious tincture anywhere you go to supply healthy energy AND a boost to your immune system. The great news? You can drink as much of this root beer as you want, and it will only make you MORE healthy. Keto friendly. Sweetened with Stevia. No chemicals. No preservatives. No food dyes. 
Rehmannia-Chaga Root Beer contains the following powerhouse ingredients:
1. Chaga
Chaga may be one of the most important anti-aging mushrooms discovered due to its combination of non-linear, complex polysaccharides, extremely high ORAC value, and incredibly high levels of betulinic acid.
Data from research conducted at facilities all over the world indicates that chaga contains a full assortment of nutrients including Antioxidants; Polysaccharides (beta glucans, protein-bound xylogalactoglucans, etc.); Superoxide Dismutase; Melanin (the main pigment in human skin and hair, the retina of the eye, and the pigment-bearing neurons within the brain stem); Triterpenes (betulin, betulinic acid, and lupeol); Trace Minerals (contains antimony, barium, bismuth, boron, chromium, copper, germanium, manganese, selenium, and zinc), Major Minerals (contains calcium, cesium, iron, magnesium, phosphorus, potassium, rubidium, silicon, and sulfur), and Vitamins B2 and D2.
Chaga is supportive to:
Eyes, brain, and skin*

Longevity and healthful aging*

Immune system function*

Cardiovascular health*

Intestinal and liver health*

Energy levels*
2. Rehmannia
Rehmannia Root is revered in traditional Chinese herbalism as "the kidney's own food". It is deeply restorative to depletion caused by stress and/or lack of sleep and is the fastest way to restore lost energy.* Rehmannia contains an abundance of amino acids, vitamins, and minerals, including alanine, glutamic-acid, lysine, vitamin A, B, C, D, calcium, copper, and magnesium. 
Rehmannia is supportive to:
Kidneys, adrenal glands, and pituitary gland* 

Immune system function*

Healthy inflammatory response within the body*

Healthy libido, healthy joints, and respiratory health*

Healthy aging* 

Healthy stress response*
Add a few squirts of this tasty concentrate to bubbly water and sip your way to root beer flavored health!
(Try adding a squirt of Wildcrafted Chaga Extract to your root beer for an added Chaga boost!)
Container Size: 50ml (1.7 fl oz) 
Serving Size: 1-2 dropperfuls 
Directions for Use: Add 1 or more dropperfuls to one cup of sparkling water. Gently stir, add ice, and enjoy.
Ingredients: Dual Extracted Wildcrafted Rehmannia-Chaga Concentrate (Wildcrafted Chaga, Rehmannia, Purified Water, Extraction Spirits*), Astragalus Extract, Vanilla*, Root Beer Concentrate* (Proprietary Blend of Fruit and Vegetable Extracts*, Stevia*, Gum Acacia*, and Citric Acid*), Vegetable Glycerine*
*Indicates Organic.
*These statements have not been evaluated by the Food and Drug Administration. This product is not intended to diagnose, treat, cure, or prevent any disease.