Sarvaa Superfood, Pacha Protein, 10 oz powder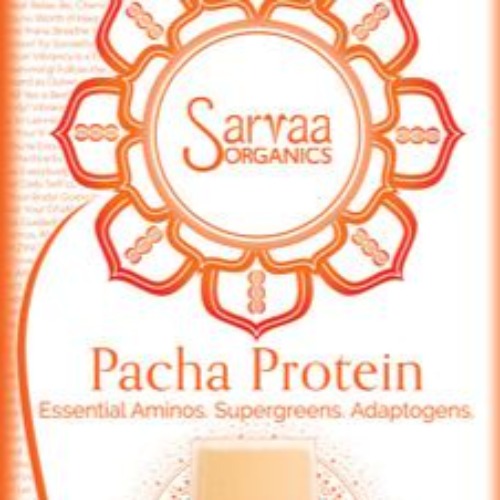 Sarvaa
Who Benefits From Pacha Protein?
"I created Pacha Protein because I wanted something way better than anything else. Period! We all deserve the absolute finest foods that radically empower our health and truly enrich every aspect of our lives!" Derek Van Atta, Founder.
Are you at the point in your life where you know you deserve the best supplements and meal replacements? Especially if the best is twice as good as then next best? And only costs a tiny fraction more? Do you agree that organic, raw, gluten-free, sugar-free, and soy-free is better? Do you prefer non GMO? Do you like superfood shakes that you can enjoy in less than 2 minutes?
Whether you are busy with work, travel, or you are an athlete, you may be someone looking for a quick, nutritious meal or snack on the go. You'll love the mild hints of Vanilla and Cinnamon in Pacha Protein. Which makes it compatible with all of your smoothies.... on your breakfast bowl..... or as a superfood shot. Doing a superfood shot can make you feel great fast. And you can do it with just water, or use your favorite type of milk. This way you can feel great despite anything else you're eating.
Give yourself the upside benefit of the most unique, and best Plant Proteins, SuperGreens, Adaptogens and Tonic Herbs!
Containing an ideal balance of both Macro-nutrients, and Micro-Nutrients,  Fiber, Vitamins, Minerals, and Enzymes, this blend will make you feel your best no matter what the circumstances. Whether you‰۪re too busy to eat, traveling, involved in intense physical activity, Pacha Protein will not only provide you with much needed energy, but boost your immune system, your mood, and your balance your endocrine system.
What will Pacha Protein do for me?
Energy. Boosts your energy in a safe, natural, and effective manner without the low that can come from caffeine containing products.
Mood. Enhance your level of well-being with mood boosting botanicals that make your body and mind feel good!
Endocrine Support. Contains 7 superfoods that provide your body nourishment for healthy skin, hair, eyes, and nails.
Immune Boost. Chlorophyll rich superfoods provide your body with much needed micro-nutrients and trace elements that are absolutely vital for a healthy immune system response and re-building.
Stress Relieving. Adaptogenic botanicals, herbs, and roots offer your nervous system relief from a variety of stressors.
Cleansing. Alkalizing superfoods will put your body on the fast track to health by cleansing the body of toxins, balancing blood sugar, and easing digestion.
Weight Loss. Over time, consuming nutrient and fiber-rich superfoods are likely to decrease your cravings for less healthy foods and balance your appetite.
Pacha Protein was inspired by the Peruvian word for Earth  Pacha because this planet has given us an incredible array of plants and fungi that nourish us all. Pacha Protein contains all nine of the essential amino acids that our body needs. Highly bio-available, Pacha Protein has almost double the content of animal protein by weight. A unique blend of supergreens, plant-based protein, adaptogenic herbs, roots, and medicinal mushrooms...Pacha Protein has it all! Pacha Protein is your go-to meal replacement and protein shake when you want something that is quick, easy, and nourishing. With subtle hints of cinnamon and vanilla, Pacha Protein is our most popular meal replacement powder.