Jing, Herbal Soda, Orange-Aid, 50ml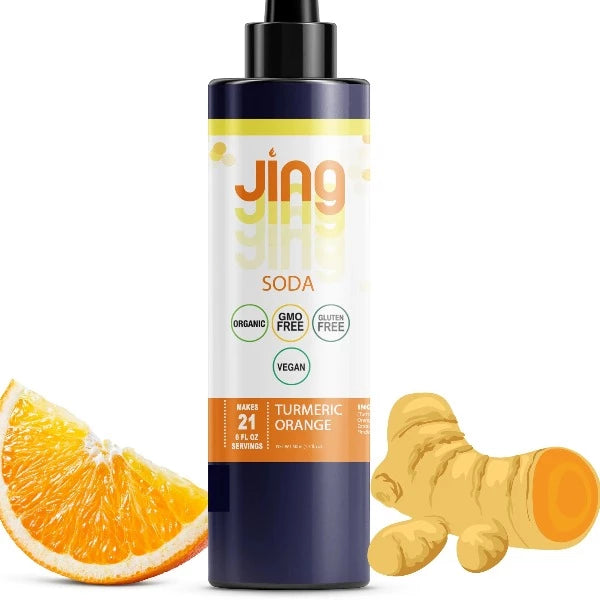 LONGEVITY WAREHOUSE
With classic orange soda flavor derived from the healthiest ingredients on Earth, this delicious tincture offers immune-system-enhancing, inflammatory-protective, mood optimization with no chemicals, preservatives, high fructose corn syrup, or harmful additives.


This refreshing tincture, when added to seltzer water, creates a soda that is:
Inflammatory-protective*
Immune system supporting*
Supportive of healthy blood circulation*
Supports the radiance of the skin*
Energy and positive mood promoting*


THE STAR INGREDIENT: TURMERIC
Originating from the Curcuma longa plant, turmeric has been used for centuries by natural medicine practitioners for its medicinal qualities. As one of the most scientifically-studied herbs, there are over 11,000 published articles detailing turmeric's positive health factors. This spice, long used in Indian curry dishes, is arguably one of the most powerful substances on Earth for maintaining health and wellness. 
The vast health-supporting benefits of turmeric are due to its robust curcuminoids. Curcumin has been shown in medical studies to be a powerful ally to maintain total body wellness. It offers the ability to balance inflammation within the body to keep your joints, organs, cells, and tissues supple. When your system is balanced, you can digest your food easily, your heart and blood can pump with ease, you can think clearly, and your immune system can protect you from illness. With Longevity Soda Orange-Aid, you can effortlessly and deliciously drink your way to health!
This sugar-free, chemical-free, health-promoting orange-aid tincture is the most delicious way to support total body health and wellness.
0% sugar. 0% chemicals. 0% preservatives. 0% food dyes. 100% nutrition.  
Container Size: 50ml (1.7 fl oz)
Serving Size: 1-2 dropperfuls 
Directions for Use: Add 1 or more dropperfuls to one cup of sparkling water. Gently stir, add ice, and enjoy.
Ingredients: Turmeric Concentrate* (Turmeric, Purified Water), Stevia*, Vegetable Glycerine*, Mandarin Orange Concentrate* (Proprietary Blend of Fruit and Vegetable Extracts*, Gum Acacia*, and Citric Acid*), Grape Alcohol*
*Indicates Organic
These statements have not been evaluated by the Food and Drug Administration. This product is not intended to diagnose, treat, cure, or prevent any disease.