Quantum Nutrition Labs, Max Stress B, 2 oz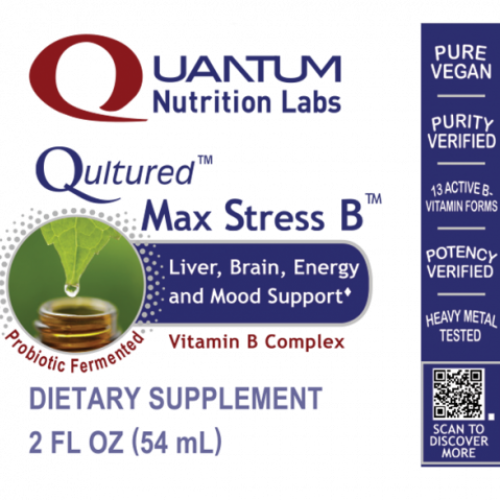 QUANTUM NUTRITION
Dietary Supplement
Probiotic - Fermented Vitamins B Formula
Dynamic Liver, Energy, Brain and Mood Support
2 oz bottle; Amber glass bottle with dropper dispenser
Max Stress B is a nutritional industry first - with never before available probiotic-fermented B vitamins. This product contains a high-energy B vitamin complex that delivers premier nutritional support. Each 1/2 tsp. supplies high energy vitamin B forms including B5 as pantothenic acid, folate as folinic acid and more.
This B vitamin-rich formula offers advanced support for the liver, the brain, the immune system, adrenal glands, cardiovascular system, mood balance and energy levels.
PFN Technology (Probiotic-Fermented Nutrients) The ingredients of this quantum-state formula are fermented using a unique probiotic culture which allows rapid oral delivery for superior effects. Many people say they can feel the effect of this product the very first time they take it.
Thiamin (Vitamin B1)

1 mg

Riboflavin (Vitamin B2 as Riboflavin-5-phosphate)

1.6 mg

Niacin (Vitamin B3 as Niacinamide)

30 mg

Vitamin B6

3 mg

Folate (Folinic Acid)

1,000 mcg

Vitamin B12

263 mcg

Biotin (D-biotin form)

334 mcg

Pantothenic Acid (Vitamin B5)

3.3 mg

Proprietary Blend

18 mg
Other Ingredients: Purified Water, Organic Alcohol, Organic Molasses, Thiamine HCl, Pyridoxine HCl, Calcium-d-Pantothenate, Sea Mineral Concentrate, Folinic Acid Calcium Salt, Fermented Probiotic Media (fermented in a probiotic culture)1