Quantum Melatonin Drops, .45 fl oz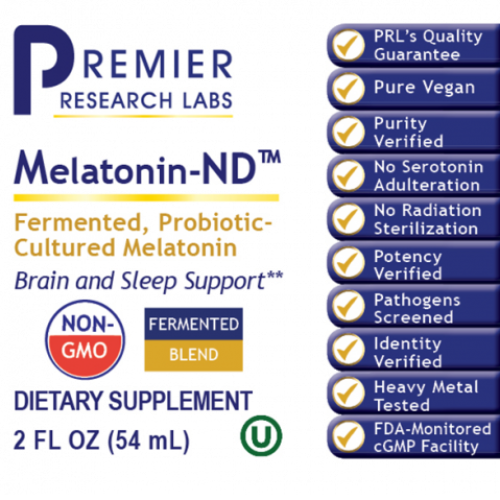 QUANTUM NUTRITION
MELATONIN-PG (.45 fl. oz.)
Formerly called Melatonin Nano-Plex
Melatonin-PG is a nutritional industry first. It features melatonin that is produced by beneficial probiotic organisms for active bioavailability. Our melatonin is not synthetic or animal derived. This formula promotes the famous benefits of melatonin: healthy brain, sleep, immune and antioxidant support.

PG Technology (Probiotic-Generated)
Our quantum-state formula is micro-digested into extremely small, bioavailable particles using our proprietary fermentation process via multistrain probiotic colonies to allow rapid cellular delivery and 4-polarity dynamics, unlike any other product. Many people say they can feel the effect of this product the very first time they take it.
This formula is preserved with certified organic alcohol (pesticide and heavy metal residues not detected via lab testing).
2 Drops Contain:
Proprietary Blend.... 5 mg
Melatonin (2.4 mg) [in a probiotic culture (inactivated after fermentation)]
Other Ingredients: Purified Water, Organic Alcohol (Certified by OTCO)
Preserved with certified organic alcohol (pesticide and heavy metal residues not detectable via lab testing)
*NOTE: Our PG products undergo a natural, patent-pending probiotic fermentation process and do not have any standardized nutrients added to them. They are assayed from batch to batch to provide the amount of natural nutrients. Please call one of our trained representatives for the most current assay results.

CLICK HERE to read about why we love Quantum Nutrition products!

*Disclaimer: The FDA has not evaluated any of these statements. Practice at your own risk and gain. Please seek immediate medical care for any urgent trauma. This product is not intended to diagnose, treat, cure or prevent any disease.